Lenise and I first met in 2012, then again in 2013 when we sat on panels together at the Independent Music Conference in Los Angeles.  I immediately enjoyed her and her energy, and I'm so grateful we stayed in touch and are now joining creative forces. Read further and I know you'll appreciate why I'm excited, so looking forward to seeing you soon in person Lenise! Click below to find out about Lenise!
LENISE BENT –Recording engineer/producer, foley mixer/editor, foreign dubbing supervisor, archivist, consultant, instructor.
Lenise is one of the first women engineers in the industry and honed her skills on many iconic records including Aja by Steely Dan, Breakfast in America by Supertramp and Tusk by Fleetwood Mac, as well as being the first woman to receive a platinum album for engineering for Blondie's "AutoAmerican" record which included "The Tide is High" and the very first hit rap song "Rapture".
Lenise is also a post production audio professional, specializing in shooting and editing foley for several films and animated series such as "RoboCop", "Street Sharks" and "Extreme Ghostbusters", creating foreign music and effects tracks for several popular TV series and films and has traveled the world for Dreamworks supervising the foreign dialogue recording and producing the vocals for such animated features as "Shrek" and "Shrek 2".
A native of Los Angeles, she has always been fascinated with the entertainment industry and was delighted when her parents signed her up for the Screen Children's Guild, along with her brother, to work in film and television at the age of 8. This lead to studying film and television production in college until she discovered the world of audio engineering and then studied to become a recording engineer.
Along with producing and engineering, Lenise is an audio instructor, guest lecturer and conducts a variety of workshops including one for singer/songwriters on basic recording techniques. She is also an audio restoration and repair specialist, recently restoring the audio for the photo exhibit "Who Shot Rock &Roll" for the Annenberg Space for Photography among other challenges.
Lenise is a long-standing member of NARAS and the Producers & Engineers Wing of the Recording Academy, the Audio Engineering Society, ARSC (Assoc. of Recorded Sound Collectors), the prestigious Hollywood Sapphire Group, The Blues Foundation, Women's Audio Mission (WAM) and is on the Board of Directors for Los Angeles Women in Music. She is passionate about preserving
Right now she is having a blast producing and engineering an all analog recording with a band presently called The Barrelhouse Kings, recording to 2" tape, mixing to 1⁄2 inch and cutting vinyl. She is also working on several projects for both up and coming artists as well as seasoned professionals. Lenise believes "there are only two kinds of music...good and bad. I love working on all styles...as long as it's in the first group."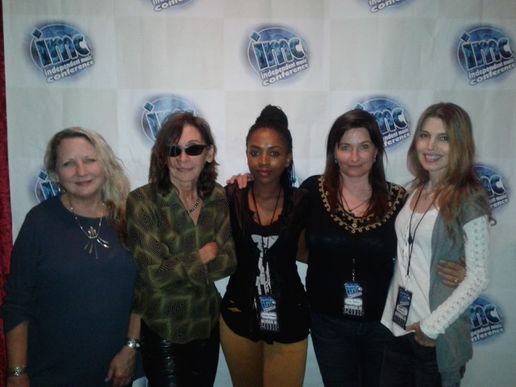 Producer Lenise Bent, Songwriter Debe Gunn, artist Diane Tsholofelo Mtakati and Recording Artist|Songwriter Annette Conlon