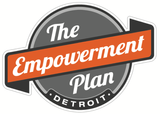 Audrey and I recently caught up with each other and had a lovely visit. The single mother of two teenage daughters, Audrey is a smart vibrant giving compassionate soul who lives life following her dreams with at the forefront 2a passion for helping others. She had this to share:  "I heard about The Empowerment Plan via social media, and learned that it was founded by a young woman from a tough background in Detroit, Veronika Scott, who saw a need to help the homeless people in her community and decided to do something about it....
She created waterproof coats that transform into full-length sleeping bags, and then can be rolled up and carried like a yoga mat. She hires woman who are living on the streets and trains them to make the coats, and then the coats are distributed for free to homeless people. She's offering job training, employment, life-saving warmth, and compassion to our society's most vulnerable people. 
You can learn more about The Empowerment Plan and Veronika Scott here.
I decided to raise enough money to buy 100 of the coats (at $100 each), and distribute them to homeless veterans in my community through Operation Dignity. 
My campaign is here, and I appreciate your support and help in spreading the word so I can help the veterans in our community.